Most of you might heard about the recent incident in Iligan city, Another catastrophe struck this beloved city. It was reported as a bomb that exploded but wrong, There were two men on a motorcycle who threw a grenade somewhere between Lhuiller and El Centro. I got this information from a friends's friend who was there during the incident. Okay but don't let the bombing and other bad stuff stop you from visiting Iligan City. Iligan City is BEAUTIFUL! I TELL YOU! :)
A plan to visit Iligan and Ozamiz City was originally scheduled for the month of June, but then the adventurous kid in me kick in, packed my stuff and headed to Iligan City. APRIL 14, 2012. I came all the way from Bukidnon! I love long bus rides :) I have awesome friends who offered to tour me around ^____________^
I don't know but I just love Iligan City, went there a couple of times already. BUT (emphasis on the big BUT) it's my FIRST TIME to visit THREE OF THEIR WELL KNOWN WATERFALLS.
Im really declaring this visit as one of the BEST and most memorable trip in Iligan City.
We first headed to Mimbalot Falls. More or less 15km drive from the city proper, nestled in Barangay Buru-un, Iligan City.
took a jeep going to Linamon and paid 15php.
from there, you may ride a habal habal for only 10php. If you are feeling all adventurous then you can just hike.
I saw a bunch of locals doing their laundries. The shallow pool- like area. Ideal for doing the laundries. LOL
Picnic Tables
The falls look really bright from afar!
My only *almost* decent shot of Mimbalot waterfalls. *sigh
The rocks were too slippery, plus I dont know where else I can take a photo without getting wet. booo
and presenting my BUHIS BUHAY shot. I almost hit my head on the rocks after a few snaps. :(
I love how strong the water falls down the ground.I even wanted to take a dip but didn't, due to time constraint.
There's a path from a somewhat foresty area that led us to a park. Upon entering, we were welcomed by a staff and he nicely educated us about their Park Amenities and such. He is really friendly.
They have, horseback riding, trampoline, childrens park (60php), zipline, and a cable car ride.
I forgot about their coressponding rates as I am too tired from the hike that I concentrated more on catching some breath. lol but as far as I can remember, rates are:
Trampoline: 120/head
horseback riding: I forgot
Childrens park: 60php
Zipline: 130php/head *superman ride
100/head
cable car ride: 120php/head
kayaking: --cant remember
If my memory serves me right.
I dont have enough money to try any of these, so we just continued to walk around and stopped by their mini canteen to have snacks.
Oppssiie we have to pay 15php ENTRANCE FEE.
25php if you pass in the MAIN ENTRANCE :) I was able to save a little there ah! :D
there are cottages for rent too. 150php
The one incharge in the canteen was very chatty, I love talking to her.
She shared to us the plans of the owner and the recent developments.
and apparently, THAT owner is my companion's BOSS. why NO discount? chos!!!! just kidding. after the little chit chat with the manang in the canteen, we searched our way out.
The construction of the pool.. and their phantom cave (sauna like) really interesting!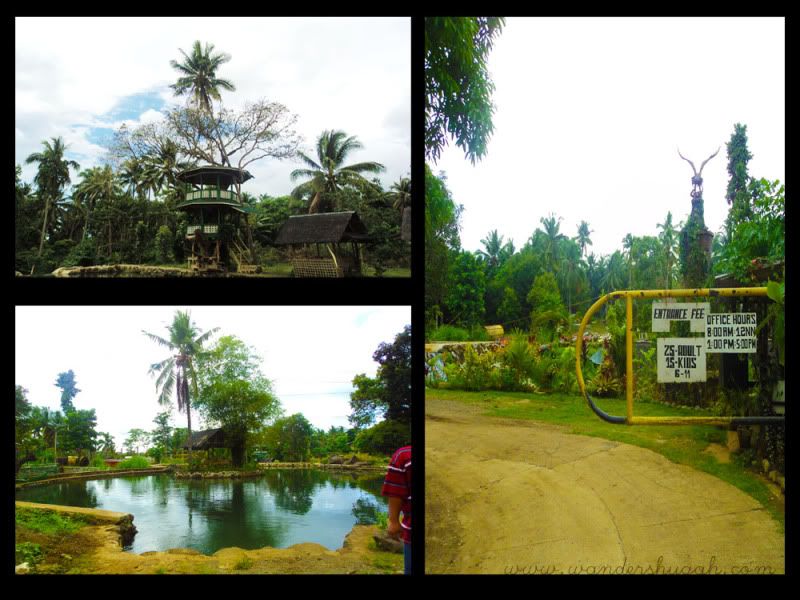 The place is worth a visit! I will be back soon. <3
Ma. Christina Falls/NPC park
Fontina Restaurant
Ozamiz City
MOAP Ocean Grill
Misamis Occidental Aquamarine Park
RR Family Resort, Tubigon, Bukidnon