On our second day in Cebu City, I suggested to try the sky experience adventure and just ditch the whale shark watching in Oslob and my friend agreed. I know Whale shark watching could have been a better activity but we don't have enough time plus it is much better when you are on a large group, say our whole barkada. That is quite a good reason for us to come back in the Queen City of the South, right?
coming from our super late lunch in SM, we hurriedly(because we have a dinner date to catch up by 6pm) went to Crown Regency Hotel in Fuente Osmena.
Going to Crown Regency Hotel is not a big fuss, everyone know where Crown Regency iS. As for those who will be riding a jeepney, I am sorry but I dont know which route you should take. *peace!
Arriving in Crown Regency Hotel we then headed to the 19th floor..err was it 18th? *memory loss :(
I copied the following rates from their leaflets.
" The Tower Zip"
EXTREME RIDE RATES!!!
TOWERZIP - 600/PAX (WITH ENTRANCE)
EXTREME 1 - 450/PAX CHOICES OF 1: (CLIFF HANGER/VERTIGO/VERTEX)
EXTREME 2 - 650/PAX CHOICES OF 2: ( CLIFF HANGER/VERTIGO/VERTEX)
EXTREME 3 - CLIFF HANGER, VERTIGO, VERTEX
@38TH FLOOR UPGRADE
250/PAX CHOICES OF 1 (CLIFF HANGER/VERTIGO/VERTEX)
400.00PAX TOWERZIP
SKY EXPERIENCE ADVENTURE RATES
ACCESS STUDENT - 200/PAX WITH FREE SOUVENIR
ACCESS ADULT- 250/PAX WITH FREE SOUVENIR
COMBO 1 STUDENT- 450/PAX (1 RIDE WITH A FREE SOUVENIR ITEM)
COMBO 1 ADULT - 550/PAX (1 RIDE WITH A FREE SOUVENIR ITEM)
COMBO 2 STUDENT- 650/PAX (2 RIDES WITH A FREE SOUVENIR ITEM)
COMBO 2 ADULT - 750/PAX (2RIDES WITH A FREE SOUVENIR ITEM)
COMBO 3- 1000/PAX (2 RIDES+ 1 XTREME RIDE WITH A FREE SOUVENIR ITEM)
FOR INTERNATION DINNER BUFFET @ SPARKZ RESTOBAR
SPARKZ OPEN FROM 6PM- 10PM
SKY ONE - 750/PAX (FREE ACCESS PLUS 1 RIDE)
SKY DUO - 900/PAX (FREE ACCESS PLUS TWO RIDES)
SKY GRAND - 950/PAX (FREE ACCESS PLUS 2 RIDES, 1 4D MOVIE)
SKY TOTAL - 1,150/PAX (FREE ACCESS PLUS 2 RIDES, 4D MOVIE, CLUB 36 ACCESS WITH 1 BEER)
XTREME DINNER - 900/PAX (1 FREE ACCESS+ BUFFET+ 1 EXTREME RIDE)
KIDS BUFFET - 400/PAX (3-8YRS OLD) FREE ACCESS AND 4D MOVIE
CLUB 36 - 250.OOPHP (WITH FREE COMPLIMENTARY DRINK)
4D MOVIE THEATER
150.00/PAX (10AM - 5PM MON- THURSDAY
175.OO/PAX - 5PM - 10PM MON-THURS
250.OO/PAX 10AM-10PM FRIDAY-SUNDAY
PLAYROOM: 150.OO/PAX (1HOUR) AND 250/PAX (UNLIMITED HOUR)
SKY EXPERIENCE ADVENTURE
TOWER 1, FUENTE TOWERS
PRES. OSMENA BOULEVARD, CEBU CITY
6322 418-7777 OR 418- 8888 LOCAL 8064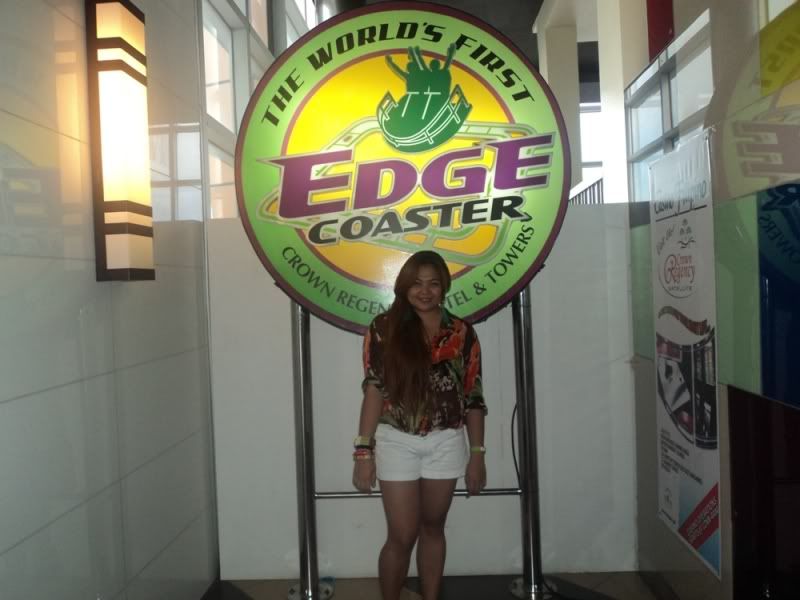 The mandatory photo with the edge coaster sign lol
We don't have much enough time so we just chose the combo 2 adult( EDGE COASTER AND SKY WALK ADVENTURE) tho combo 3 was our first choice :/ If only time permits we'd surely get the combo 3 deal. So anyway, we payed 750php/pax then presented the adventure wrist band to the 37th floor for our EDGE COASTER RIDE. ( I was really amazed with that wrist band thingy. babaw haha!) signed a waiver, left our stuff in the baggage area then off we go.
The Edge Coaster goes around the edge of the 38th floor and approximately 130ft above street level.
As I stepped on the coaster's platform, took my seat and obviously held my breathe from the beggining till the end of the ride. The first tilt was a crazy drop! I felt my spirit flew away from me! I couldnt even lift or move my damn hands. You have two choices, either shout the hell out of you or close your eyes. The instruction was "the first 5 seconds the crew will control, whether you like it or not the coaster will tilt to some certain degree. and the rest of the ride you can control the angle." We didn't bothered to press the buttons, even the down button! We were that scared. both of us shouted and laughed the whole time! My friend even sang some kiddo rhymes I dont know. Some disney channel song! haha
Okay, that was one CRAZY but FUN ride! I may be a scaredy cat but I always love heart pounding rides. :p You guys shouldnt miss this ride. It lasted for 5minutes or less but it was damn fun!
Edge coaster ride
Picture taking is prohibited but there will be a crew who'll take your photos and have it printed.
230php/copy FREAKING EXPENSIVE!!!!!! Ive read somewhere that they only paid 100php per photo. Can somebody please explain this to me? hmmmm
Okay I wasnt able to scan our printed copies yet so please bear with the photos I provided. haha
Time to try the SKY WALK ADVENTURE at the 38th floor. yeaahaa! this time, no more heart pounding momentos!
We preceeded to the information area where we were required to sign another waiver. I paid 10php for the socks. The use of shoes is free of charge.
They provided lockers too for safety. thats a sweet deal eh?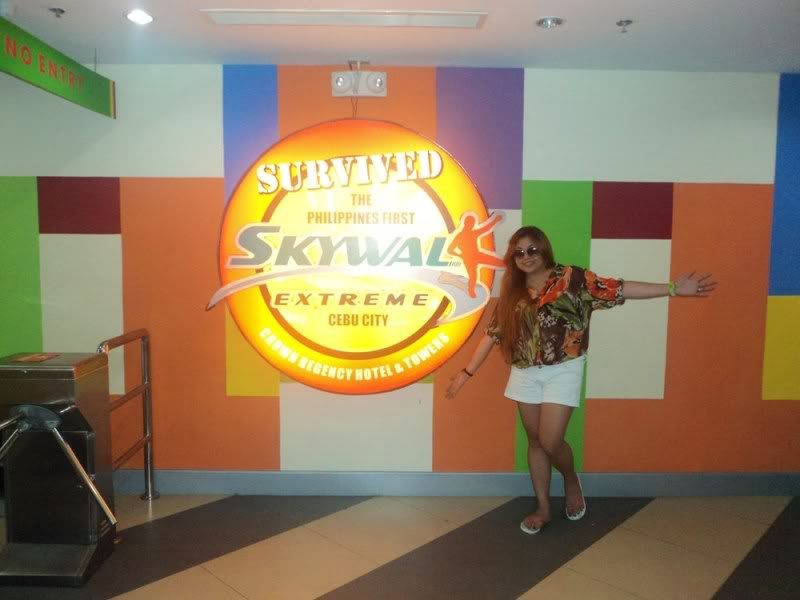 Changed to an orange suits they provided, intended for the Sky Walk chienes.
ohyea, photo before the walk.
I promise to change the photos on this post with the scanned ones. haha Sorry. Im too lazy :S
There were a lot of guest that time. After a quarter hour of waiting, its our time to shine. chos! A nice guy joined us (He was alone).
As I've said, Less heart pounding momentos this time. I fully enjoyed the 360 degrees view from the 38th floor. The crew was chatty we never got bored. *hes cute too. shhh*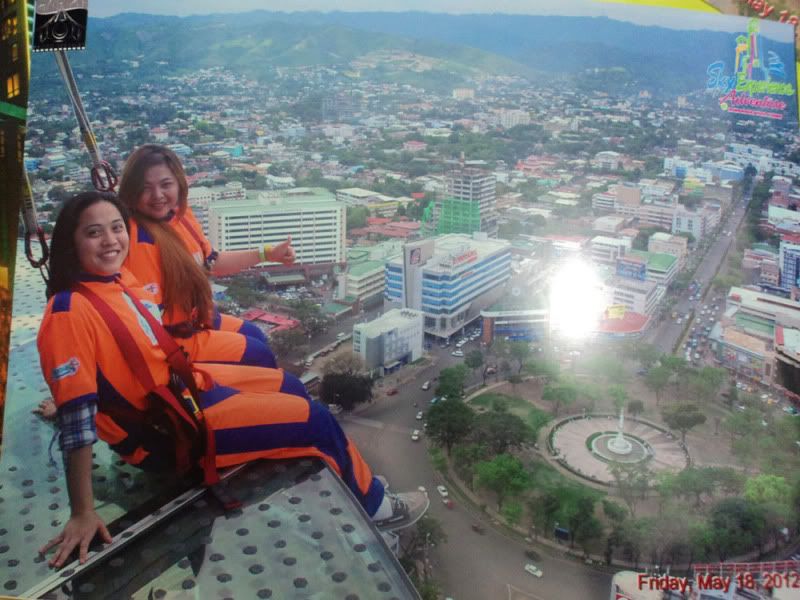 tadaa! :D All along I thought it wouldnt be this thrilling. Boy! I was wrong! It took me a while before I finally sat at the edge.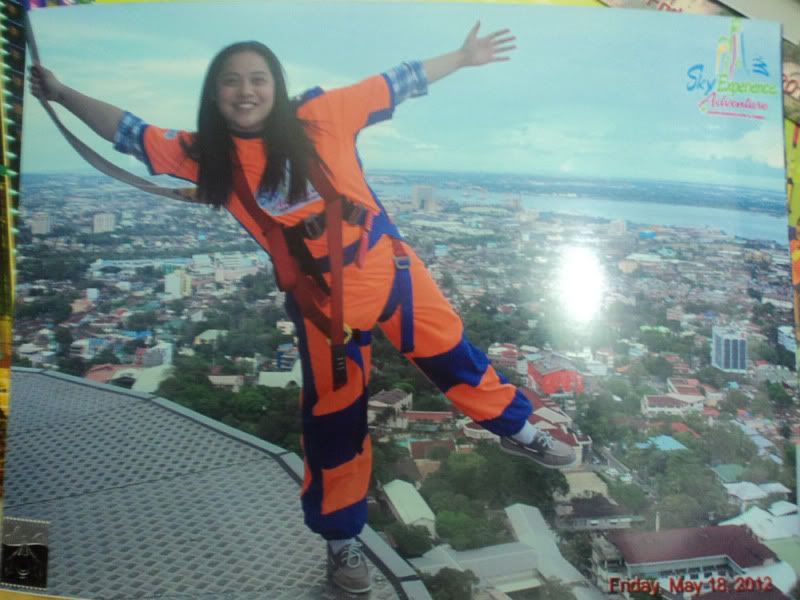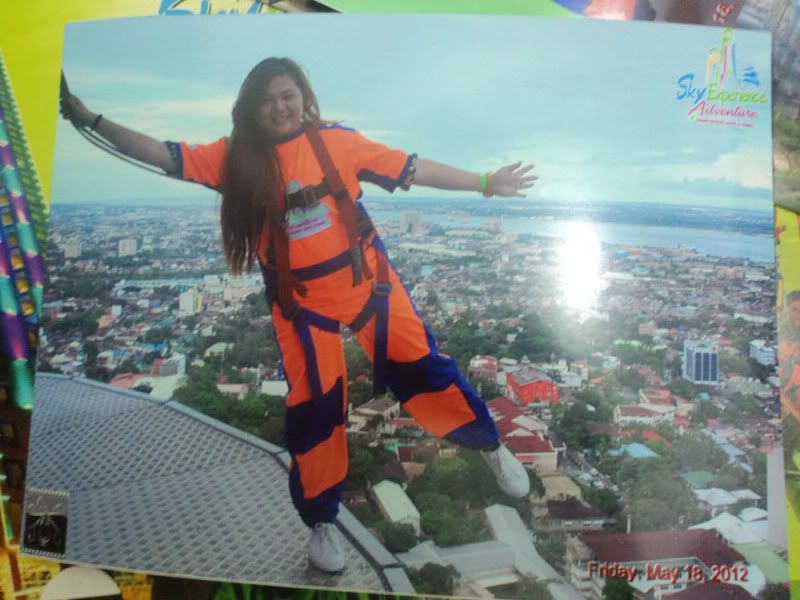 okay, that was the farthest lift I can do :/
That was fun! Enjoying our 10-15minutes of walk on the edge of the 38th floor was a good experience.
While waiting for our certificates, we went to the sky observatory and took photos.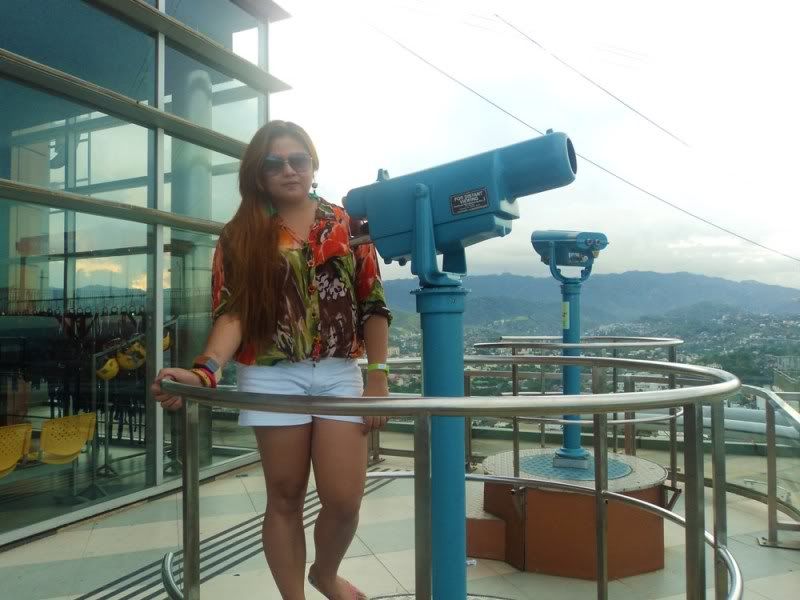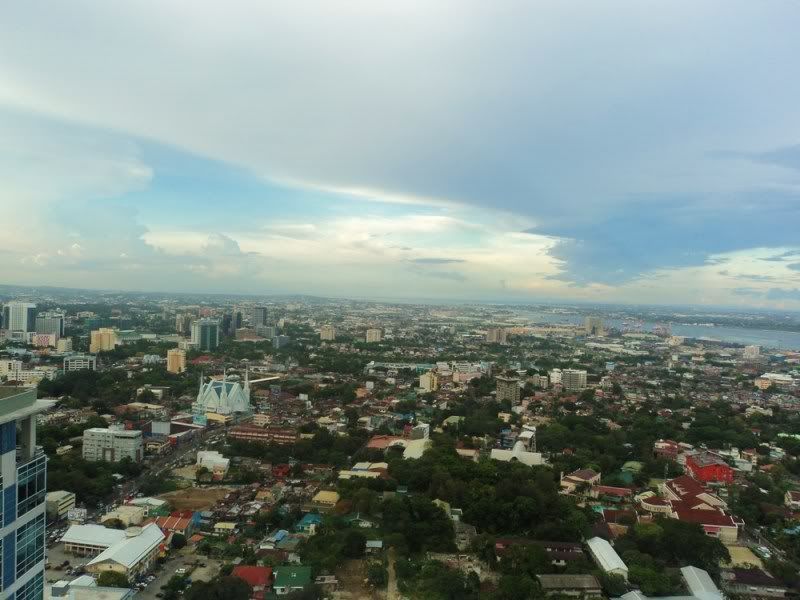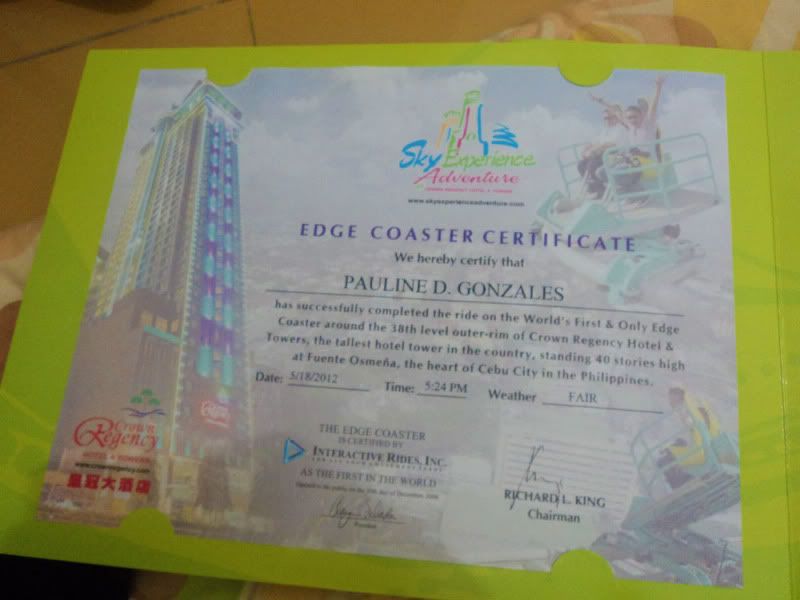 I successfully completed the ride on the Worlds First and Only Edge Coaster and the country's first Skywalk extreme. yeahaa!
so rollercoasters next time?
xoxo, Shugah