I love packing up for travel. I enjoy packing up for a travel, It brings delight to me. So, I created a collage on what I'll bring or what one must bring to a 3day- 2nights beach trip.This is just a reference, alright? Its never a pain to travel in style. Its easy peasy, I tell you.
Outfit planning is the key. You should know how many days will you be travelling, where you will be going, and what activities on the said trip. That way, Packing will be super easy for you.
So lets assume we're going to Boracay, Palawan, Malapascua or some secluded island in the south.
Wether you are gonna board a plane,by car or by ship, This outfit is just good enough for about any kind of transport. A
comfy racerback top, shorts,scarf, loafers, watch, hat, sunglasses and a duffel bag
( well, I personally prefer duffel bags for short-period getaways, or you may choose a backpack depending to your liking.)
I got a collage right here for your reference. Practically, I choose and would prefer light weight clothes and stuff when travelling. I dont like bringing super big bags or luggages when travelling that will surely be a BIG hassle too.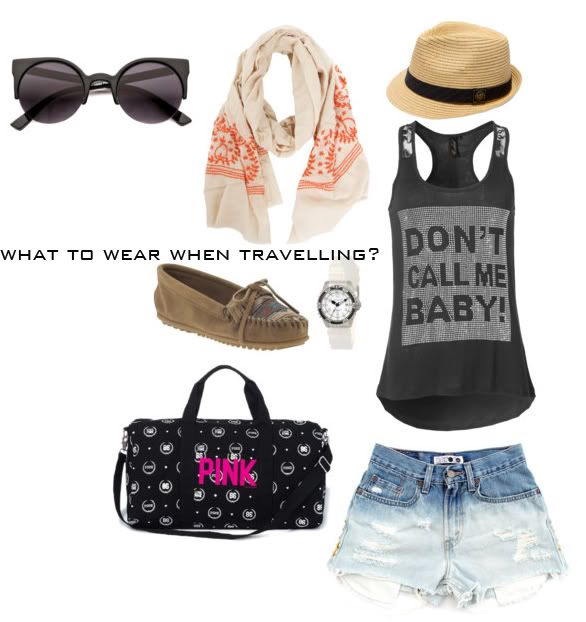 What stuff to prepare and bring?
BEACH OUTFIT
TRAVEL OUTFIT
ADD ONS
Our main goal right here is to travel light and in style so we will just bring the basics.
Inside our would-be duffel bag are;
2 beach outfit: I would want to wear a breezy see thru top and a shorts, under it would be a very cute tribal printed bikini... and slippers ofcourse. *DAY 01*
a cropped top and a cute skirt, floral yellow bikini, and slipper.
2 sleep wear: May it be PJ's or skimpy shorts, its all up to you. Bring light weight sleepwears.
Travel outfit: This would be the clothes you will be wearing to travelling back home.
T shirt and a shorts, loafers, scarf, and hat.
add ons:
Camera- da? Its like one of the top travel essentials. sun-screen, shampoo (If you don't like the toiletries in the resort), cards (if you are with friends and if you love 0playing cards. eh?).Accessories(just bring enough wrist charms and earrings.)Umbrella if you want to, but I dont really like bringing umbrellas haha I just added that because I love its color and print.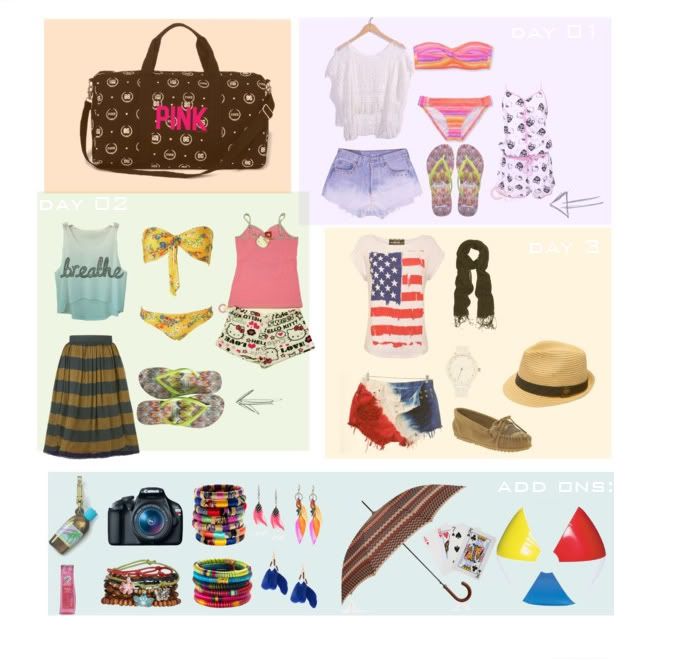 That's basically it and I pretty assume that everything I posted here will fit in a regular sized duffel bag. The suggested outfits here is reasonably appropriate for a beach trip where you are expected to just laze around, walk by the shore, swim, cocktail drinks, and to simply relax.
On a very serious note, I just made these because im insanely bored and I got nothing better to do, which I guess turns out to be a pretty good idea.