Ever wondered where to go this summer? Mindanao is pretty big (in fact, Second largest in the Philippines) you'll be surprised to know how many things this island has to offer and at how many beautiful places there is to see in the "Land of Promise". I can guarantee you can visit these places without hurting your wallet. Trust me, Its paradise.
Read along to know more.
1. MISAMIS ORIENTAL
Water Rafting in Cagayan de Oro City
There are various places to visit in Misamis Oriental. One being the liveliest city is Cagayan de Oro and by all means, Cagayan de Oro is synonymous to water rafting. It is a very fun activity for groups, families and friends. I highly vouch for Kagay Whitewater Rafting Adventures (Corrales Ave. Fronting Bombo Radyo) or you may contact them at
wkagay@yahoo.com
and/or
0917 712 2323
Things to do:
Check out the lively city at night! Karaoke, party clubs, food establishments everywhere!
Visit the Museum at Xavier University
WHITEWATER RAFTING! nuff said.
Visit Divine Mercy Shrine. A popular pilgrim site in Mindanao
Try "proven" along the streets in Divisoria before sundown.
Check out Ababu Persian Kitchen (near XU Campus) to satiate your persian food cravings
2. BUKIDNON
Impasug-ong, Bukidon
Bukidnon is located at the very heart of Mindanao. Cool climate, great environment and yes CHEAP and FRESH vegetables everywhere. If you fancy Hiking, Mountaineering, Waterfalling, Cave Spelunking, River Trekking or just simply want to relax? Bukidnon is the place to be. They got great places for both Adventure seekers and those who just wanted a relaxed getaway.
Things to do:
3. DAVAO DEL NORTE
Isla Reta, Talicud Island, IGACOS, Davao del Norte
Davao del Norte
is a province every Mindanaoan(or well, Mindanaoan from nearby provinces) frequent to for a beach fix. Its my personal favorite quick getaway place. Need I mention awesome chocolates can be found in this province?
Things to do:
Visit Tagum City - Capital City of Davao del Norte. The Palm Capital of the Philippines
while you are at it you may also visit La Filipina Cemetery in Tagum City
Explore wonderful beaches in the Island Garden City of Samal.
Beach places to check out: Talicud Island
Visit one of the Banana Plantations in Tagum City
4. SOUTH COTABATO
Hikong Bente Falls
South Cotabato
is home to the dreamweavers. This province is a charm to every adventurer out there. You can hike/trek to lakes, hills, and peaks. Blessed with numerous tourist attractions, this province has remained very laid back.
Things to do:
Check out Hikong Alo and Hikong Bente falls in Lake Sebu
Go on a tilapia eating spree in Lake Sebu
Visit Magandang Gensan (General Santos City)
Check out the Fish port in General Santos to see gigantic fresh tuna catch
Food trip along Tiongson road in Gensan
Try the amazing zipline experience in Lake Sebu
Visit "Be Lang Dulay, One of the Philippines National Living Treasure in Tukolefa, Lamdalag, Lake Sebu
Eat Halo Halo in Koronadal City. One of the best I had in my entire life.
5. MISAMIS OCCIDENTAL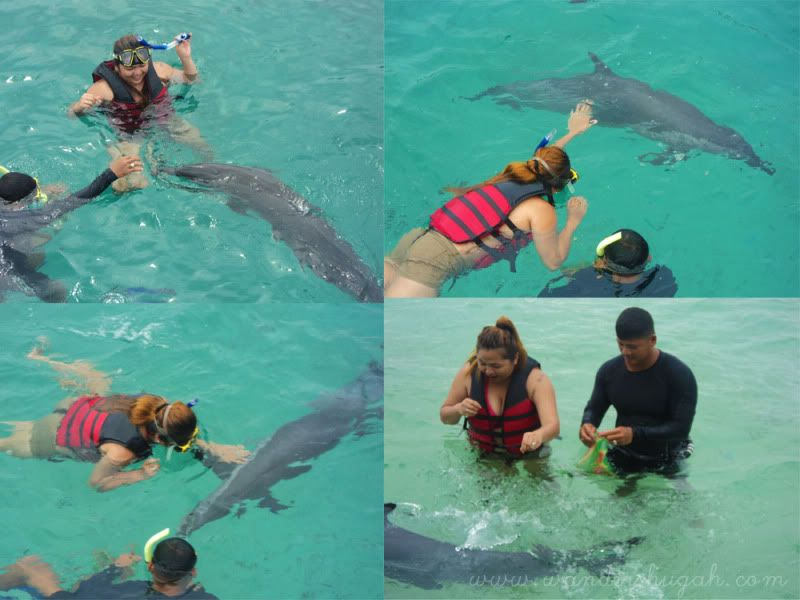 Swim with the dolphins at MOAP
not known to many but Misamis Occidental boasts gorgeous beaches and has a rich culture still intact. You have to go to this province to experience being transported to a thousand years back with their well intact architectures.
Things to do:
Visit the town of Baliangao for its beautiful beaches.
Tangub City for the hot springs
Oroquita City for the man-made sanctuary for rescued dolphins.
Jimenez and Plaridel to see the amazing old architectures and any mark of indigenous culture
Lake Duminagat - Crater lake
7. ILIGAN CITY
Dodiongan falls in Iligan City
If you crave for more daring adventure, then head straight to Iligan City. Home of the gorgeous and stunningly beautiful waterfalls. Also, food tripping in Iligan is one of the best. I also blogged about things to do in Iligan so yeah
CLICK HERE
if you feel like reading it.
Things to do:
Tourism Triangle: Maria Cristina Falls, Mimbalot Falls, and Tinago Falls.
.... more waterfalls to check out: Dodiongan Falls, Pampam Falls, Kalubihon Falls, and Dalipuga Falls.
FOOD TRIPPING: Try the delicious Durian Shake at Iliganon. THE BEST!
Food Establishments to check out:


Jacko's Kan-anan & Grill.




Tita Fannies




Calda Pizza




Ice Factory




Fontina




El Canto Grill




Brew's Almighty Coffee Shop (Yummy coffee and suman!)




Mackies Chicken




Meongs Soup Shack

Sunset Watching at Centennial Park
Tartanilla Ride
buy SUKANG PINAKURAT.
8. SURIGAO DEL SUR
Free diving at Enchanted River, Hinatuan, Surigao del Sur



Surigao del Sur is one of my favorite province in Mindanao. This little province down south is packed with natural wonders. and and wonderful beaches!
Things to do:
Visit Brittania Group of Islands
Visit Enchanted River
Visit Tinuy-an Falls
Eat "Mutya ng Bislig" at Gails Restaurant in Bislig.
Visit the white beach strip in Cagwait
White Beach in Carasscal too!
Go surf in the uncrowded surf breaks of Lanuza.
Ayoke Island & Cantilan (ohhh such beauts!)
Visit Libtong's Blue Lagoon
9. SURIGAO DEL NORTE
Cloud 9, Siargao Islands, Surigao del Norte
Surigao del Norte - Home to warm and peace-loving people
(I can highly attest to that). With its urban charm, many local and foreign travellers have been attracted to it. The unspoiled and untouched beauty of this province will surely keep you wanting for more. With so much attractions to flaunt, one shouldn't leave without doing the following:
Things to do:
Visit Bucas Grande - Home of the Sohoton Cave
ofcourse, surf in Siargao. If you are not keen into a little adventure, maybe try it for once and will talk about it after.You're welcome!
Eat Pan-de-surf
Stand up paddle board in the wide mangroove sanctuary in Siargao Islands
Maybe atleast in your life watch a cock fight in Siargao? Every sundays!
Swim with the stingless jellyfish
Cliff diving in Bucas Grande. Must try!
Explore Dinagat Island for a day!
EAT FRESH SEAFOODS!
10. SARANGANI
Coco Beach, Gumasa, Glan, Sarangani



Sarangani Province is a perfect spot for beach bumming and just plain relaxing. It is blessed with a great beach strip you can walk while a beer or two in hand. *Winks




Things to do:
SARBAY Fest in Sarangani - Epic beach party every summer!

Well yeah, Gumasa beach with its powder-like sand!

Freediving/ Scubadiving at

The Abyss, Maasim Reef

and

Sumbang Point.
Where to stay: Coco Beach Resort


In case that wasn't convincing enough, please check out our
20 day #TravelMindanao experience
it was one epic journey! sea y'all and have a fuuuuuuntastic summer!